Charles Hoyt, Popular Playwright of the Gay Nineties
By Cliff and Linda Hoyt
Last Modified on September 27, 2015
 

 

Charles Hoyt Cabinet Card

 Size: 6.9" x 4.2" Circa: 1890

Play Poster Celebrating the Success of Charles Hoyt
            One summer day in 1885, a young playwright stood gazing at the monster rhinoceros in Barnum's Menagerie. When offered the traditional penny for his thoughts, he replied, "No man ought to write a play unless he has a skin as thick and tough as that fellow wears." The playwright's thoughts ran back to a limerick appearing in the New York Dramatic Mirror:
`A Boston young man named Hoyt,
Essayed a dramatic exploit;
He brought out `Cezalia,'
A blooming bad failure;
And then he escaped to Detroit.'
            After early awkward attempts, Charles Hoyt's need of a thick skin decreased. During the late 1880's and 1890's, Hoyt's theatrical events generated laughter across the country. Popular history does not remember Charles Hoyt as it does his contemporaries, Edward Harrigan or George M. Cohan. Even so, Hoyt's innovative contributions help set the tone of modern American farce and musical comedy.
            Hoyt wrote farce: outrageous situations, witty dialogue and very little plot. For the exorbitant fee of 75 cents, the theatergoer expected belly laughs and got them. Hoyt populated his stage with exaggerated American types from all levels of society and all parts of the country. He poked fun at the tramp, plumber, soldier, lawyer, undertaker, baseball player, and neighbor who continually borrows a cup of this and a package of that. Hoyt wrote all-American farces, unlike earlier American writers, who adapted much of their material from French or British farce. Hoyt's use of home-grown situations and characters earned him the title of father of American farce.
            During the early years of Hoyt's productions the critics berated his efforts. Critics would have accepted his farces if he had not taken the genre one insult further. He replaced plot with fast action, singing, dancing, and acrobatics. To the audience's delight and the critics' chagrin, Hoyt's work appeared as a variety show with loosely connected events resembling a plot. The May 4, 1886 New York Times review of "A Tin Soldier" is representative of the critics' versus the public's acceptance of Hoyt's early productions:
"...Mr. Hoyt is not given to inventing plots, and he has not in this play departed from his custom. He has seized upon some of the commonest material of the humorous papers and has thrown it together in a disjointed manner; but he had no higher purpose than to make people laugh, and that laudable object he has accomplished. ... There was a large audience present last evening, and the farce kept it in a state of continual laughter."
            Hoyt quickly achieved popular approval and eventually gained begrudging critical acceptance for his musical farces. His theatrical diversions earned him a place in the history of entertainment as a precursor of modern musical comedy. A lineage of style stretches from Charles Hoyt through the Marx Brothers vehicles and on to the Beatles' movie "A Hard Day's Night".
Early Youth and Education (1859 - 1877)
            Charles Hoyt was born in Concord, New Hampshire on July 26, 1859, the child of George and Martha Hoyt. At some point, Charles misplaced his birthday and declared it to be July 26, 1860. No birth certificate exists and both dates are quoted by theatrical historians. The 1860 New Hampshire Census settles the issue by listing George, Martha, and Charles Hoyt on June 28, 1860 (one month before the erroneous 1860 date).
            George Hoyt moved his family to the small village of Charlestown, New Hampshire in the fall of 1866 where he operated The Robertson's Hotel. A second son, George Albert, was born on April 6, 1868 but he died less than a year later. Ill health plagued the family as Martha began to fail. She died on March 14, 1870 in Keokuk, Iowa at the home of her brother, O.C. Hale. Ill health forced George to leave the hotel business in October of 1870. He and Charles moved into a small Charlestown cottage.
            During the 1870's Hoyt's only mention in his hometown newspaper came in July of 1876 when he officiated at two baseball games. The July 8, 1876 issue of The National Eagle, Claremont, NH, contained an article on a game between the Atlantics of Claremont and the Blue Caps of Charlestown. The game was played in Charlestown as part of the July 4 celebration . One C. H. Hoyt was listed as the scorekeeper. The article in The National Eagle of July 22, 1876 indicates that Charles Hoyt was the umpire for a game between the Charlestown Blue Caps and the Nine Potato Bugs.
            Charlie attended various private schools in Charlestown and spent two terms at the Boston Latin School. He remarked that while in Boston he had "achieved a record for almost anything but scholarship". However, he learned enough to pass the college entrance examination and to receive an appointment to West Point. He remarked later that he did not attend the academy because "the physical examination was a trifle beyond me".
            After leaving school, Charlie went to Boston to pursue a journalistic life. Hoyt's father, seeing no financial promise in journalism, persuaded the youth to return to Charlestown to study law under ex-Chief Justice Edmund Cushing of the New Hampshire Supreme Court. While studying law, Charles received a request for help from Edward Sears, a friend and former Editor of the Boston Globe. Now running his own newspaper in St. Albans, Vermont, Sears needed Hoyt to look after the paper for a few weeks. Hoyt jumped at the opportunity. During his short editorship, Hoyt wrote a series of witty articles on the provincial social life of St. Albans. These articles came to the attention of the journalistic community of Boston and provided Hoyt with his next professional opportunity.
            Leaving St. Albans, Hoyt continued his legal studies until he received a offer to write the humorous "ALL SORTS" column of the Boston Post. Charles asked Judge Cushing how his legal studies had been progressing. Cushing summed up Hoyt's knowledge, saying "You know all my good stories and I know all yours." That was the end of Charlie's legal career. Hoyt later commented that "Law had no further interest for me except to keep out of its clutches". In 1879, at the age of 20, journalism again took Hoyt to Boston.
Boston Post and Early Plays (1877 - 1883)
            Hoyt's "ALL SORTS" column contained small news items, coming events, humorous comments, and "all sorts" of miscellaneous news items. The items were frequently cryptic, and included a humorous twist. His wit and ability to see though the surface of society earned "ALL SORTS" and its author public acclaim. In addition to writing "ALL SORTS" Hoyt became the Post's sports, music, and theatrical editor. Reviewing theatrical events introduced him to Boston's dramatic community where his prolific writing ability and wit became well known.
            In 1881, William Harris, manager of the Howard Athenaeum, pressed Hoyt to write a sketch. The result was a three-act play called "Gifford's Luck". The play toured New England prior to its Boston opening, being first performed in the Union Engine Company firehouse in Amesbury, Mass. on February 22, 1881. Hoyt's paper broke with tradition by reviewing (favorably, of course) this small out-of-town firehouse production.
            The play opened in Boston at the Howard Athenaeum on March 21, 1881 to good reviews. "Gifford's Luck" was a tragic melodrama with only scant comic relief and had little in common with the productions which would make him rich and famous.
            The variety acts preceding "Gifford's Luck" rivaled the play. The entertainment included four song and dance acts, a stand-up comic, two contortionists, and a humorous skit. The March 22, 1881 review in the Boston Post (dramatic editor Hoyt, again!) lamented:
"The olio that preceded the drama was of the usual excellence, but, in justice to the drama, ought to be cut down one-half."
Perhaps the critic/author felt that all that entertainment prior to his play was distracting. Hoyt learned from this experience and eventually gained success by placing variety acts within his plays.
            The local success of "Gifford's Luck" prompted Charles Hoyt to see himself as the "American Shakespeare". He next wrote a romantic melodrama called "Cezalia", first performed on May 29, 1882 at Boston's Globe Theatre. Again, the Post's review of "Cezalia" provides interesting insights. The entertainment section, which typically resided on the back pages, miraculously moved to the front page, with the "Cezalia" review as the lead article. All the Boston papers provided positive reviews but as Hoyt later lamented, "It was highly spoken of by the critics, but there was nothing eloquent about the box office receipts, so I dropped melodrama there and then". The play's poor showing brought the budding playwright back to reality with a resounding thud.
            During his theatrical endeavors, Hoyt met a comedian named Willie Edouin. The young playwright related several anecdotes about a novice hotel operator from Hoyt's hometown, named J.B. Dinsmore. Edouin asked Hoyt to write a play using these anecdotes and the result was a musical farce called "A Bunch of Keys".
            Initially, Hoyt and Edouin felt that the script of "A Bunch of Keys" was hopeless. Only Edouin's wife had faith in the piece and she convinced her husband to buy the play for $500. Its first presentation proved Hoyt and Edouin prophetic --- the play was a bomb. Hoyt's friend and fellow worker on the Boston Post, Charles Thomas, thought it failed because of the way the actors presented the material and not the material itself. Thomas insisted that the play was a new kind of farce and that the actors must change their style of presentation. The players must act funny. The public was no longer content to laugh at an actor's funny clothes or extravagant makeup. Hoyt agreed with Thomas and attempted to regain the rights to the play. He was unsuccessful and settled for being hired to rewrite the play and supervise the rehearsals. The play was presented again and was well received. Hoyt continued to revise portions of the play, based on audience reactions. When the farce eventually opened in New York, it was a box office success.
            "A Bunch of Keys" follows the three attractive Keys sisters and a reprobate lawyer named Littleton Snaggs. Snaggs brings the bunch of Keys news of their late uncle's will. The will leaves a small-town hotel to the homeliest sister as judged by the first traveling salesman to stay at the hotel. The lawyer attempts to manage and gain control of the hotel while together the sisters try to get the hotel without being picked by the salesman. The story follows the sisters as they get the hotel and the lawyer gets the theatrical business.
            A New York Times review of February 19, 1884 provides an idea of the "business" that was unleashed:
"The programme set forth that the actors were `people who risk their lives, limbs, and reputation in presenting the piece and the audience were not disposed to doubt the truth of the two risks first catalogued in this assertion whatever might be their opinion as to the third. ... Its humor is of that exquisite kind which rests on horse play, acrobatic feats, clog dances, the throwing of various missiles by the performers, the blowing of flour by one actor in the face of another, and such like pleasantry.'"
            During the first season of "A Bunch Of Keys", Willie Edouin's company cleared $56,000. Of that sum Charles Hoyt received only the initial $500 and the fee for re-writing and directing the revision. He could not help noticing the financial possibilities available literally at his finger tips. He and Charley Thomas formed a partnership and quit their jobs at the Boston Post. This pact initiated an odyssey which made Hoyt a dominant Broadway personality until the end of the century.
 

 

Cabinet Card for Hoyt's A Bunch of Keys - Photograph

6.5" x 4.2" Circa 1882-1886

Hoyt's A Bunch Of Keys Play Poster

29.0" x 21.5" Circa 1898-1903
The Middle Years (1884 - 1893)
            The first musical farce produced by the team of Hoyt and Thomas was "A Rag Baby" in 1884. The play lost thousands of dollars on its road tour and the partners came close to returning to journalism. They decided to complete the tour, which concluded in New York. In New York, the play succeeded financially in inverse proportion to the theatrical reviews. The New York reviews for the play achieved mediocracy, and went downhill after that. As usual, the critics complained that "A Rag Baby" contained little if any plot. The production had other problems as well. The opening night New York Times review attacked both the orchestra and the canine member of the cast:
"Handsome `the homeliest dog alive,' played much better than the orchestra, which is not much of a compliment to the canine."
            Whatever its faults, "A Rag Baby" was loved by the public who backed their point of view at the box office. After the New York success the play returned to the road and within a year turned a profit of over $50,000. The play traveled the country for years and returned to New York at least three times.
            During the road trip of Hoyt's musical farce, "A Tin Soldier", a young actress, Flora Walsh, joined the cast in San Francisco. Flora traveled with the troupe from California to New York. Flora's role was so small that she only received mention in one New York review, and that one misspelled her name. When Hoyt met Flora he wanted to marry her immediately and the young girl was in complete agreement. Flora's mother, Alice Walsh, felt that at the tender age of 14 her precocious offspring should wait at least two years. Charles and Flora were married two years later in Charlestown on July 12, 1887 (thirteen days before Flora's seventeenth birthday!).
 

 

 

Hoyt's A Rag Baby Play Poster

Size: 27.3" x 18.7" Circa: 1890-1895

Hoyt's A Tin Soldier Sheet Music

Size: 14.0" x 10.7" Circa 1887c

Hoyt's A Hole in the Ground Trade Card Featuring Flora Walsh

Size: 5.2" x 4.0" Circa: October 1887
            Hoyt's next success after "A Tin Soldier" was "A Hole in the Ground". This play, written specifically for Flora Walsh, provided a collage of railroad station incidents as travelers wait for a delayed train. It contains the least amount of plot of any of Hoyt's concoctions. The characters remain nameless, only referred to by the nature of their part (e.g., A Stranger, A League Baseball Umpire, A Deaf Lady, and A Lunch Counter Waitress). Flora played the part of the waitress. The opening night review from the New York Herald placed the guilt for this sort of theatrical production on the public:
            "The spectacle was a ludicrous one from beginning to end. There is neither wit, originality nor fun in the piece. Horse play and vulgarity abound and slang has full sway. The audience laughed, however. Perhaps that statement reflects credit upon Mr. Hoyt's judgment; perhaps it reflects discredit upon the judgment of the audience."
Hoyt still needed skin as thick and tough as a monster rhinoscerous but with pockets to carry his money.
            Hoyt made a significant change of direction with his next productions: "A Midnight Bell", "A Temperance Town" and "A Texas Steer". These plays included very little singing and dancing and contained the most sustained plots of any material he wrote. Although they had social consciousness and serious situations, they still contained elements of farce. Hoyt was asked once why he did not take his art seriously, to which he replied "I do. There is nothing funny about a game that is earning me $100,000 a year. That's serious money."
 

 

Hoyt's A Midnight Bell Advertising Play Poster

Size: 29.0" x 42.5" Circa: 1900-1915

Play Premium: Caroline Miskel as Ruth in A Temperance Town for 50th performance, Hoyts Madison Square Theatre, NY,

Size: 9.0 "high Circa Nov. 6, 1893.
            In "A Texas Steer", Hoyt created the character Bossy Brander for Flora Walsh. With this play Hoyt tried to move his work closer to legitimate comedy. The plot involves a prosperous Texan who is elected to the U.S. House of Representatives against his will. The campaign is engineered by his wife and daughter because they want to move to Washington. The election was honest, claims his daughter Bossy: "Every man who voted for him has got his pay in advance." One episode in Washington has Brander meeting a lobbyist who wants Brander to support building an expensive post office in a dried-up corner of Texas called Red Dog. When the lobbyist suggests that all Red Dog needs to be respectable is "a little better society and more rain", Brander replies "That's all hell needs".
 

 

Hoyt's A Texas Steer Advertising Play Poster

Size: 27.7" x 40.7" Circa: 1893-1900

Photograph - Flora Walsh as Bossy Brander

Size: 22.0" x 16.0" Circa: 1890-1893
            In 1890 Hoyt and Thomas leased the Madison Square Theatre in New York. It was renamed Hoyt's Madison Square Theatre and was later shortened to Hoyt's Theatre. The first of his farces to be produced at Hoyt's Theatre was "A Trip to Chinatown," which opened on November 9, 1891. This show ran for 650 consecutive performances, a New York record that would stand for over 20 years. Three songs from this play were immensely successful: "Reuben and Cynthia", "The Bowery", and "After the Ball" ("After the Ball" made an other Broadway appearance in "Show Boat.") The play maintained this long run by being continually revised. Introducing new novelty acts, songs, characters and lines periodically provided variety to the meager plot.
 

 

Hoyt's Trip to Chinatown Advertising Play Poster

Size: 28.7" x 38.6" Circa: 1892-1903

Hoyt's Trip to Chinatown Play Premium - Ink Well 650 Consecutive Performance

Size: 4.0"h x 5.8"w x 3.0"d Circa: August 7, 1893
The Later Years (1893 - 1898)
            The beginning of 1893 found Hoyt at the peak of his popularity, both across the country and in his home town. Prior to his marriage to Flora in 1887, he purchased a large home in Charlestown. After renovation it became the finest house in town. He purchased other significant property in town and by 1895 paid almost twice the property tax of any other Charlestown citizen. Hoyt took his civic duties seriously. For instance, he played major role in the building of a town library.
            Hoyt always tried to spend spent part of the summer in Charlestown and frequently visited town for a few days during the busy theatrical season. During these summer visits Hoyt often brought "stars" from his various companies to Charlestown to rehearse a new play or simply relax. Hoyt threw lavish parties, often with brass bands and fireworks. The townspeople were able to share in much of this entertainment. Hoyt's love of Charlestown was repaid by its citizens. In November of 1892 and again in 1894 the electorate of Charlestown showed their appreciation by electing Hoyt to the State Legislature.
            The beginning of 1893 found Hoyt's theatrical career thriving. "Chinatown" was breaking records for longevity in New York City, while road productions of "A Midnight Bell", "A Texas Steer", "A Brass Monkey", and "A Temperance Town" were filling theaters across the nation. 1893, however, was not a very good year for Charles Hoyt. Flora Walsh died of pneumonia on January 22 at the age of 22; Charles' father died on February 18; and his partner, Charles Thomas, died on November 11.
            Hoyt felt these losses deeply. To adjust, he concentrated on the day-to-day business of his road companies and the New York presentations of "A Trip To Chinatown", "A Temperance Town" and "A Milk White Flag". In these endeavors he took a new partner, Frank McKee, who had previously served Hoyt in several capacities including general manager of "Chinatown".
 

 

Post Card of Charles Hoyt's Home in Charlestown, NH

Size: 3.5" x 5.5" Circa: 1905-1910

Cabinet Card -- Caroline Miskel-Hoyt

Size: 6.5 x 4.2 Circa: 1894c
            Hoyt's production of a "A Temperance Town" provided him with an introduction to one of the most beautiful actresses on the American stage -- Caroline Miskel. Hoyt was taken by her beauty and married her on March 1, 1894. In 1895, a New York Dramatic News contest named Caroline the most popular actress of the day. Along with this honor, Caroline won a contraption that was all the rage in 1895: "a nickel plated bicycle, with solid silver search light lantern and standard cyclometer".
            Hoyt experimented with innovative ideas in "A Runaway Colt." The play was about baseball and featured actual baseball players in the cast. The play starred Captain "Pop" Anson of the Chicago "White Stockings". Although the reviews were unusually kind, having baseball players in the cast made the play something less than successful. They were not accomplished actors and they could not be kept on the road while the play was fine-tuned. The play's mediocre reception by the paying public greatly disappointed Hoyt.
            Hoyt followed "A Runaway Colt" with three successful musical farces in his old tradition, "A Black Sheep", "A Contented Woman" (written for Caroline Miskel), and "A Day And A Night In New York".
 

 

 

Hoyt's A Black Sheep Advertising Play Poster

Size: 83.6" x 40.2" Circa: 1896-1898

Hoyt's A Contented Woman Advertising Play Poster

Size: 29.0" x 21.0" Circa: 1898c

Hoyt's A Day and A Night Advertising Play Poster

Size: 29.0" x 20.7" Circa: 1899c
The Last Years 1898 - 1900
            Despite Hoyt's success in the theater, one aspect of his life was lacking. He wanted a family. Caroline retired from the stage and bore him a daughter. The child, born on October 28, 1896, died the same day. The tiny cedar casket temporarily shattered Hoyt's dream of a family. The couple again attempted to start a family in 1898. On October 2, Caroline Miskel died at the age of 25 after giving birth to a son. The child, two months premature, died after only one hour.
            The universe around Charles Hoyt started to collapse. The vision of mother and child together in a single coffin was a nightmare from which he could not awake. His desire for a family had resulted not in happiness, but in death and loneliness. His doctors advised him to take an extended vacation, but a vacation would not help Charles Hoyt. Inactivity allowed his mind to dwell on the past. His doctors and friends reluctantly consented to the writing and production of a new play. Just four months after the death of his family, Hoyt's last effort, "A Dog in a Manger", opened in Washington, D.C. By this time, Hoyt was a sick man, a virtual prisoner in his hotel room. As he sat in the theater on opening night he thought he was in New Haven. The next day he could not remember that the play had been presented or indeed that he had even written it. The play was a colossal flop, and ran for only one week. Hoyt had neither the strength nor resolve to revise the play as had been his fashion. After the first night his partner, Frank McKee, cancelled the rest of the road trip.
            McKee took Hoyt south for a rest in a warmer climate but Hoyt pleaded to be taken back to his beloved Charlestown. McKee consented and Hoyt returned to Charlestown for a short time. Hoyt subsequently returned to New York where he sat for hours looking at photographs of Caroline.
            Hoyt had no close relatives to care for him, and placed a heavy burden on his friends. McKee felt compelled to have his friend and partner committed to an asylum. In the summer of 1900 a hearing was held in Hartford, Connecticut, to determine the disposition of the man who, only a few short years before, had been on top of Broadway. McKee chose Hartford because the town was the site of the Retreat for the Insane, one of the most humane institutions of its type in New England. Hoyt would be able to live in a cottage and travel around the city, restricted only by having an attendant with him at all times.
            The court committed Charles Hoyt to the Retreat for the Insane on July 26, 1900. The medical testimony stated that Hoyt suffered from incurable paresis. In 1900, paresis was considered a disease of the insane. Hughes' Practice of Medicine, published in 1917, states that the onset of the disease resulted from "Alcoholic and sexual excesses; syphilis; mental and physical overstrain; and worry...". A modern medical definition given in Taber's Cyclopedic Medical Dictionary, describes paresis as a form of syphilis with symptoms similar to that of psychoneurosis or psychoses. The disease runs a slow, lingering course toward death in 5 to 15 years after the initial infection.
            In 1900, drunkenness and the use of profanity were perceived as characteristic of early stages of paresis. Hoyt had a reputation for heavy drinking and the prolific use of vulgar language. One incident noted in the New York Times in February, 1898, may be suggestive either of the paretic influence or simply of Hoyt's irascibility:
            Following a dispute over the rights to a song, Hoyt was sued for ten thousand dollars by Edwin Bates for three counts of slander and defamation of character. Hoyt was found not guilty on the first count of calling Mr. Bates a thief, but on the second and third counts Hoyt was required to pay Mr. Bates a total of $1,200 ($1,000 for "the use of vile words" and $200 for spitting on Mr. Bates.)
            The populace of Charlestown did not take kindly to outsiders committing their local celebrity and benefactor to an asylum. They felt Hoyt presented no danger to himself or those around him and that he should be allowed to live a retired life in Charlestown. A group of these friends took legal action to free Hoyt. The judge in Hartford did not change his decision on Hoyt's sanity but felt that with proper medical care and a legal guardian, Hoyt could be cared for in Charlestown. Within a week of his initial confinement, he was released and on his way home.
            On November 20, 1900, four months after his return to Charlestown, Charles Hoyt was dead. Hoyt's collapse was the result of the combined influences of grief and paresis. Paresis, although critical and indeed fatal, simply served to intensify his very real sense of loss.
            Popular theatrical history does not remember Charles Hoyt. This forgetfulness had its roots in the very nature of Hoyt's life and his work. He left no family, no one to remember or retell the story of his life. His career was very brief; he died at the age of 41, after only two decades in the theater. During his life, Hoyt continued to modify and update his plays; they were an extension of himself. When his life-giving force was no longer behind them, the plays started to wither.
            Charles Hoyt's short career took him to prominence on Broadway and across the country. The writer of 17 popular plays, Father of American Farce, and early innovator of musical comedy, was now gone. The plays continued to be popular for years but the spark which made them vibrant had gone out. His Charlestown home now lay silent, the brass bands gone and gay parties over. In the parlor stood a shrine composed of several large photographs of Caroline Miskel, with a small tribute of flowers placed there almost daily by Thomas Davis, long-time employee of the household and caretaker of the property. In the corner of one room stands a silent symbol of better times: "a nickel plated bicycle, with solid silver search light lantern and standard cyclometer".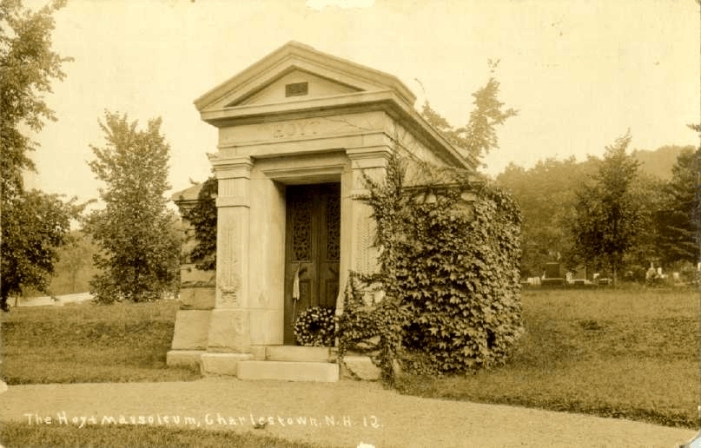 Post Card - Hoyt Mausoleum, Charlestown, NH
Size: 3.4" x 5.4" Circa: 1900-1940